COLLECTION GUIDE
HERE is a GUIDE SHOWING YOU WHAT is CUSTOMIZABLE with OUR SEMI-CUSTOM COLLECTIONS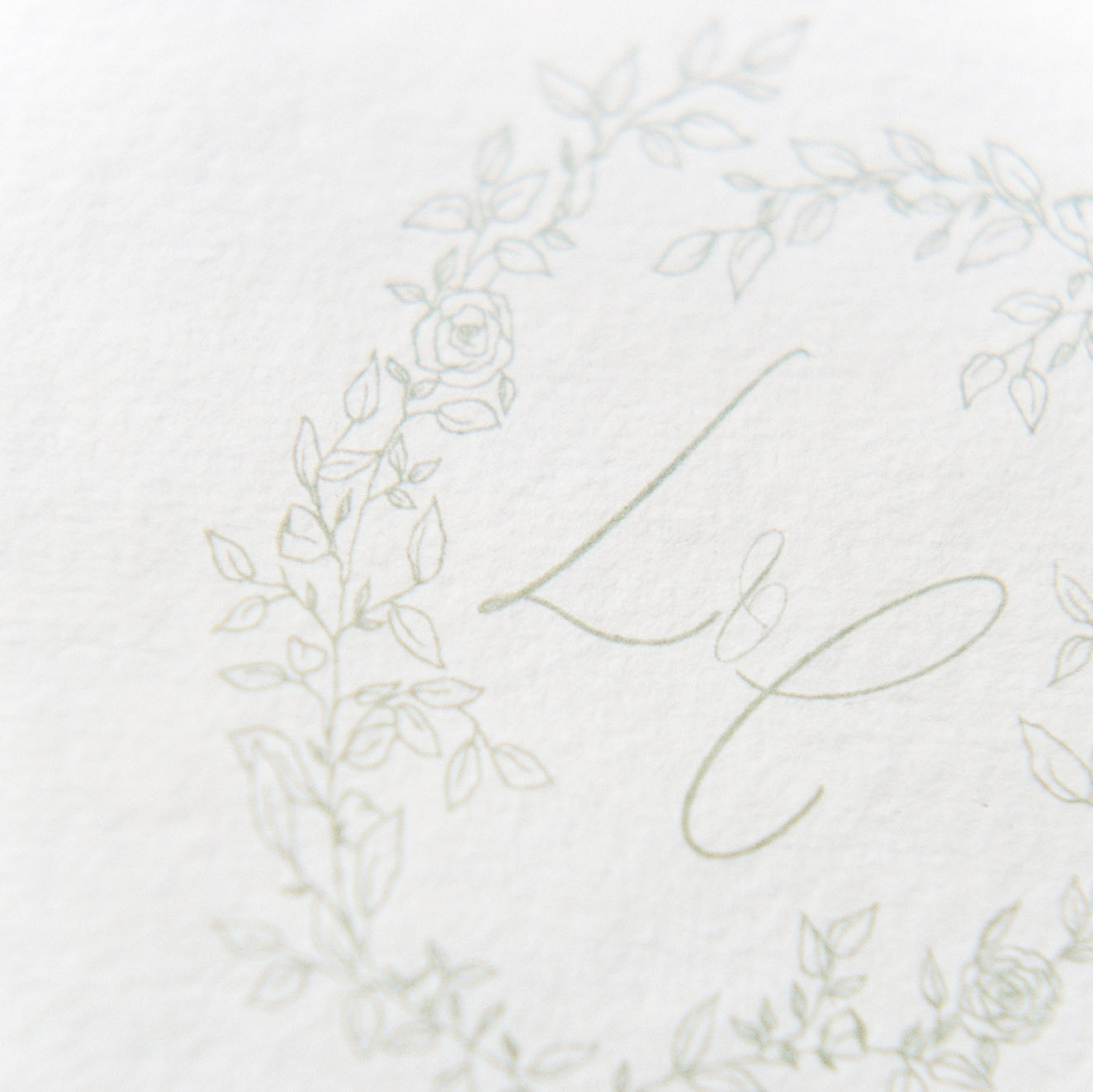 The design is digitally printed onto the card. It is great for medium-dark ink tones and works well on lighter colored cards. Alternatively, white ink digital printing may be used on dark stocks. Available on our 270gsm and 300gsm straight edges cards and on some colored handmade paper. Only printing method for our watercolor illustrations.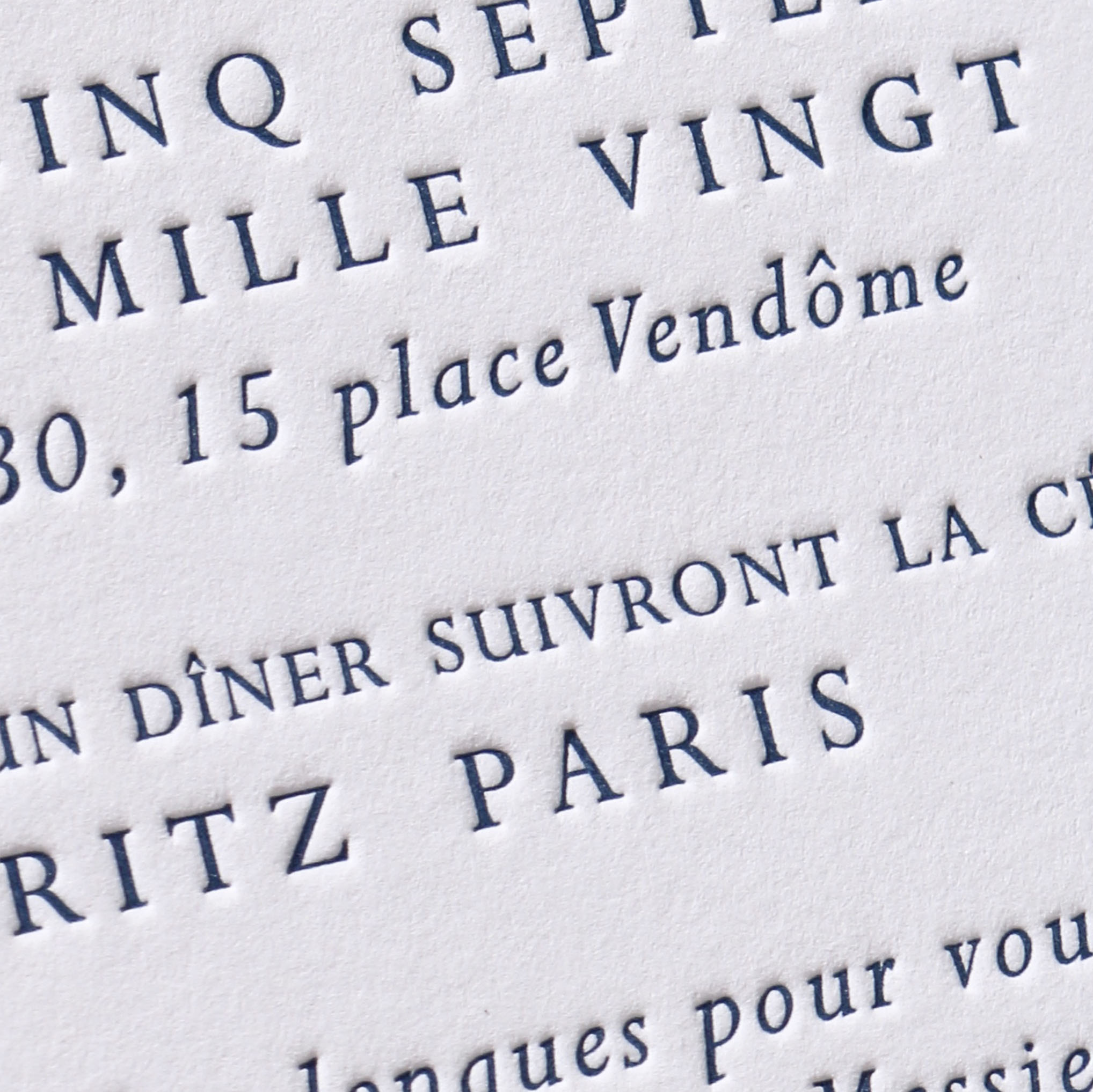 This technique implies to use a die that is press onto the card, leaving a deep impression which you can feel with your fingertips. Any medium-dark color can be used, as long as you are not looking for a metallic look. It can work beautifully with lighter color as well.  This technique implies the use of a thick paper (min. 450gsm).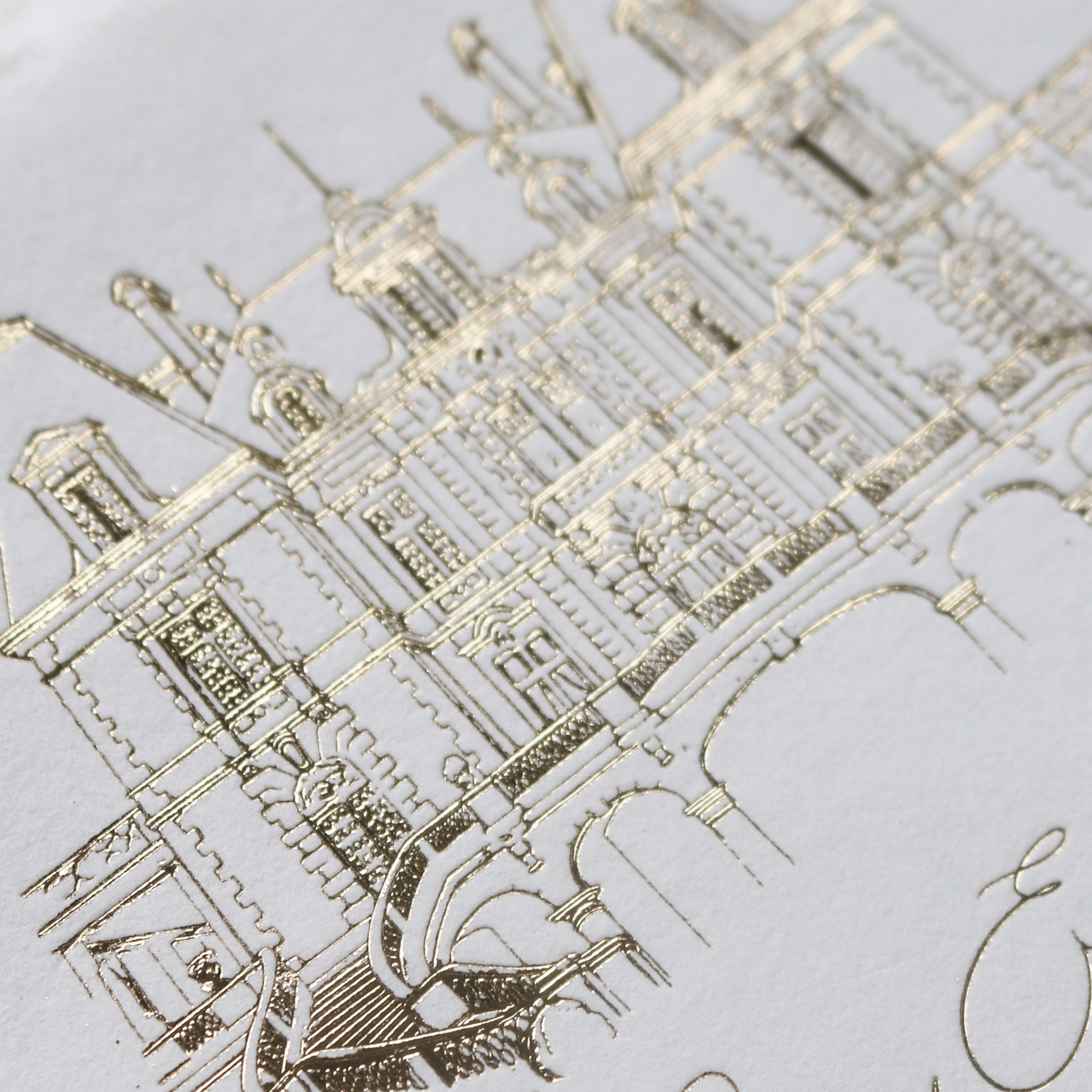 Similar to letterpress printing, as it implies to use a die and then « press » the design onto the card using sheets of foil. Perfect for printing metallic tones, and works beautifully for both dark and light card-stocks.  Available in many paper type, straight edges or handmade paper.

Digital printing offers many options but here is the selection of favorites.
Please note : Our watercolor illustrations included in our Olive collection have colors that cannot be changed : only the text will be customizable in terms of color.
White ink is only an option on dark paper color.
Letterpress colors also allow a large range of options (Pantone references). White ink is available as blind letterpress.
Any metallic color (gold, rose gold, silver, copper) are available on foil printing only.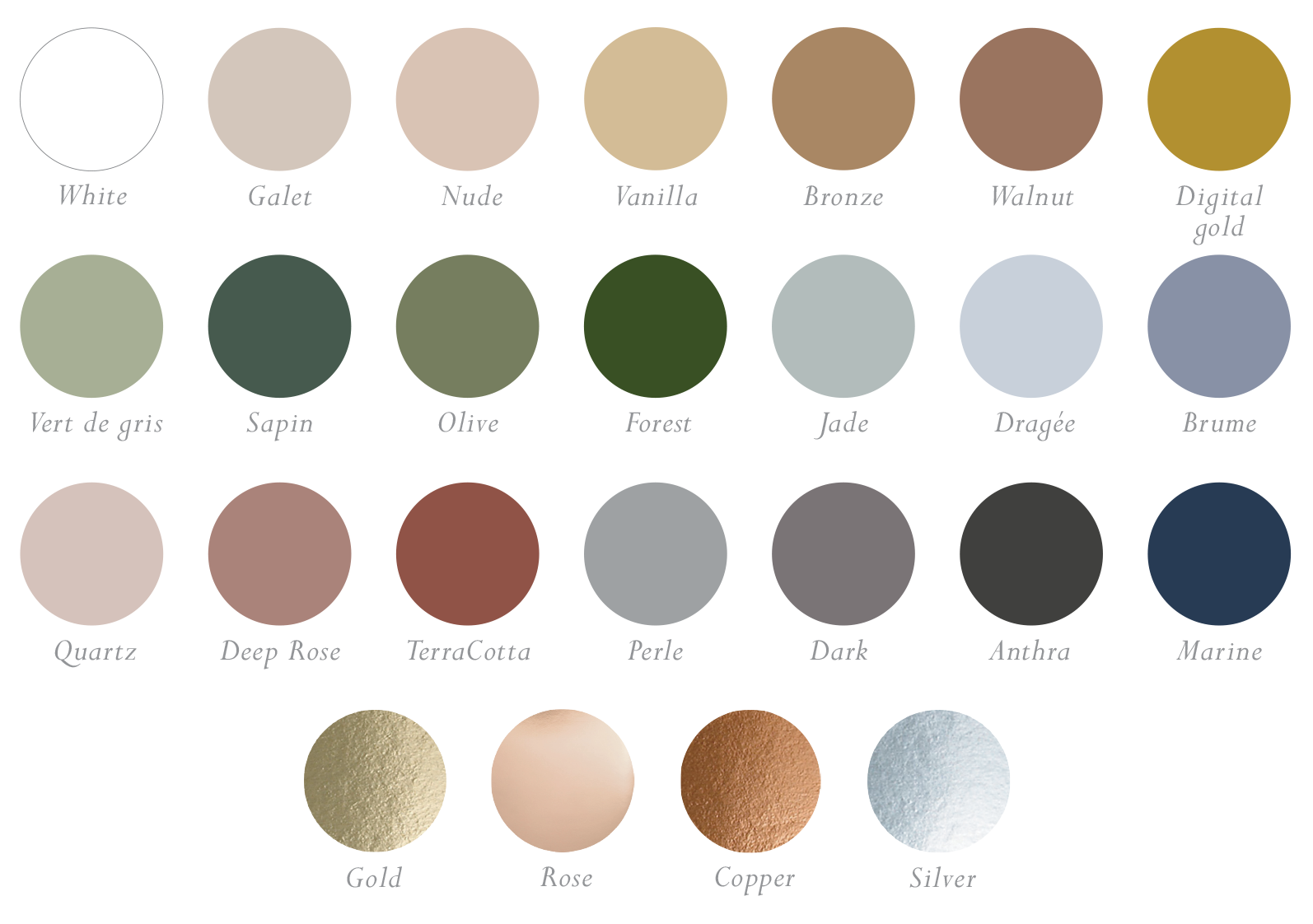 These envelope colors have been selected for our semi-custom collections – it is possible to have us look for custom colors –
If you choose handmade paper for your invitations, we can either mix them with regular paper envelope, or use matching handmade paper envelopes.
Envelope size below : 14 x 19 cm

Envelope size below : 13,3 x 18,3 cm

WREATH / MONOGRAM OPTIONS
Our wreath designs can be customized with or without your initial(s) centered.
The four wreaths below are to be used with our Isidore suite, but can be adjusted to our Kimberly suite.

IN HOUSE WAX SEAL DESIGNS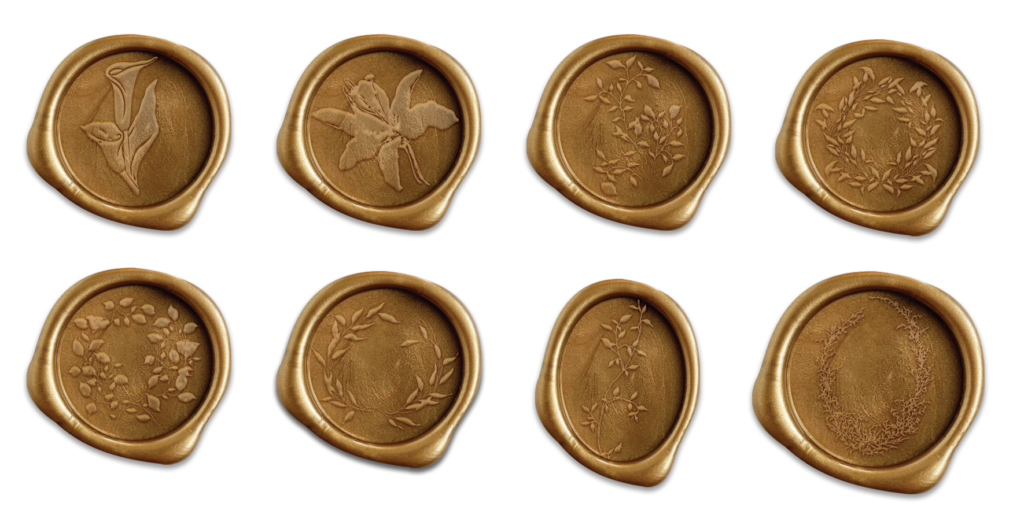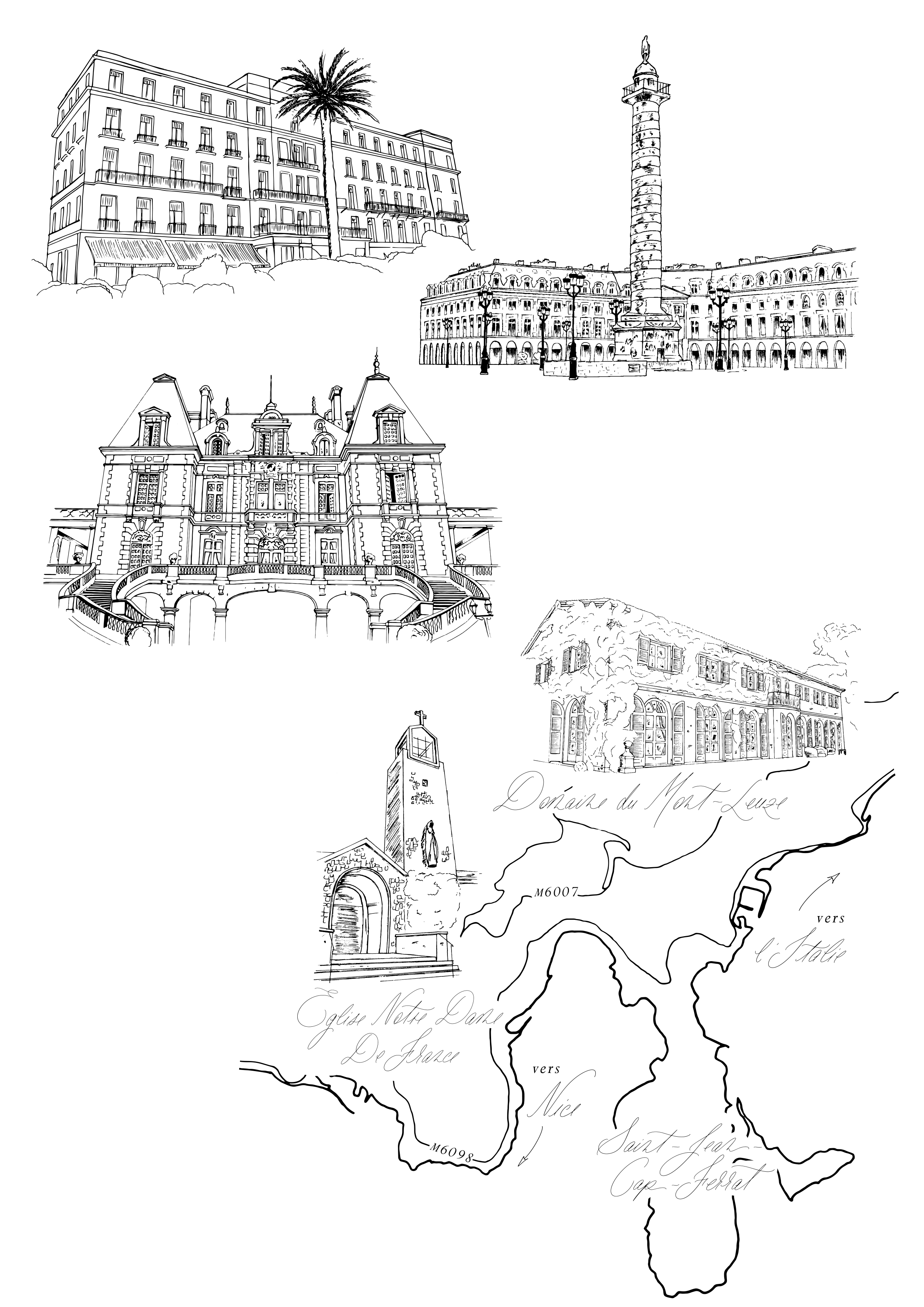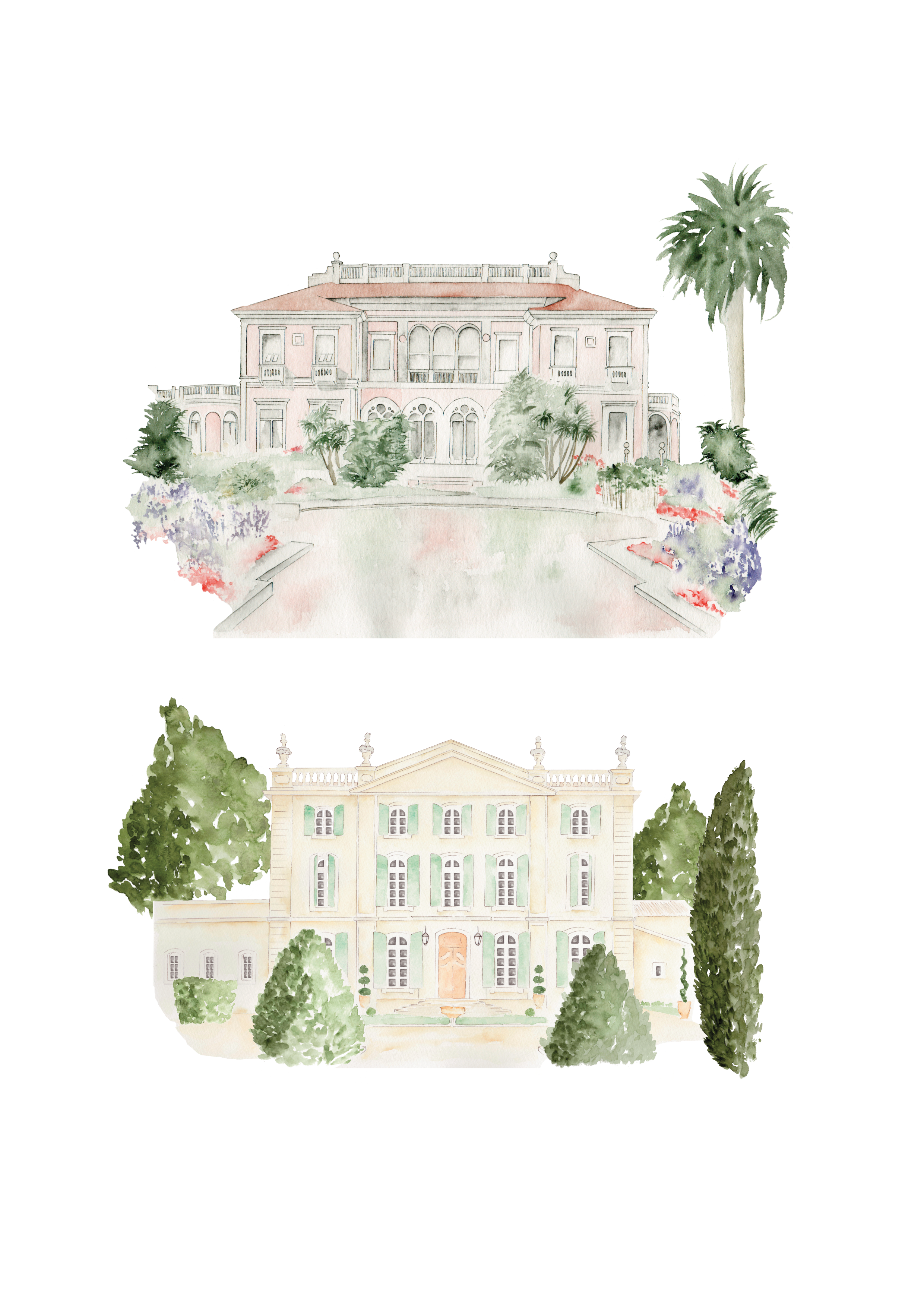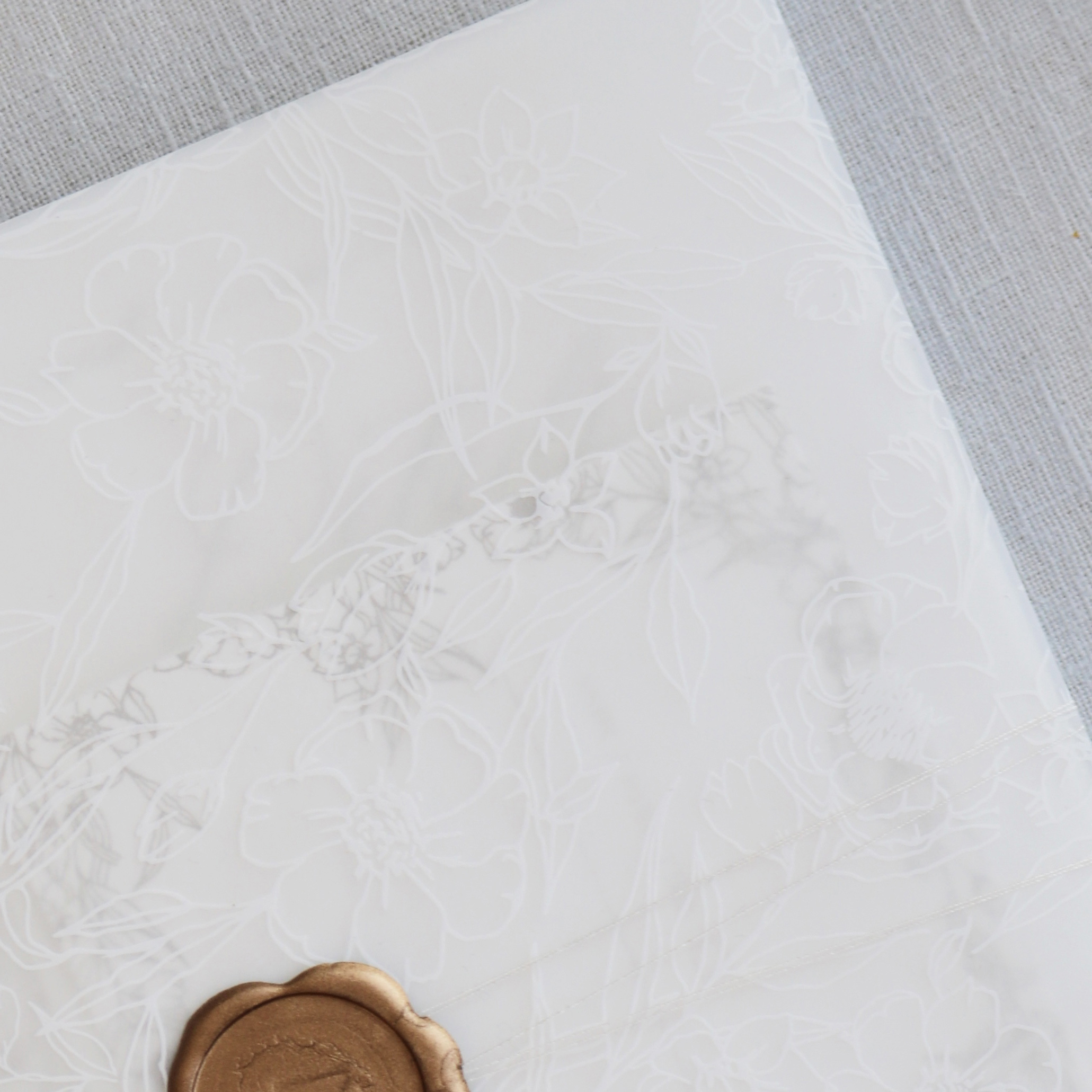 VELLUM
Vellum can be used on your invitations in different ways, printed or not. and combined or not with twine, ribbon and/or wax seal. Anything is possible, and embellishment is never a waste !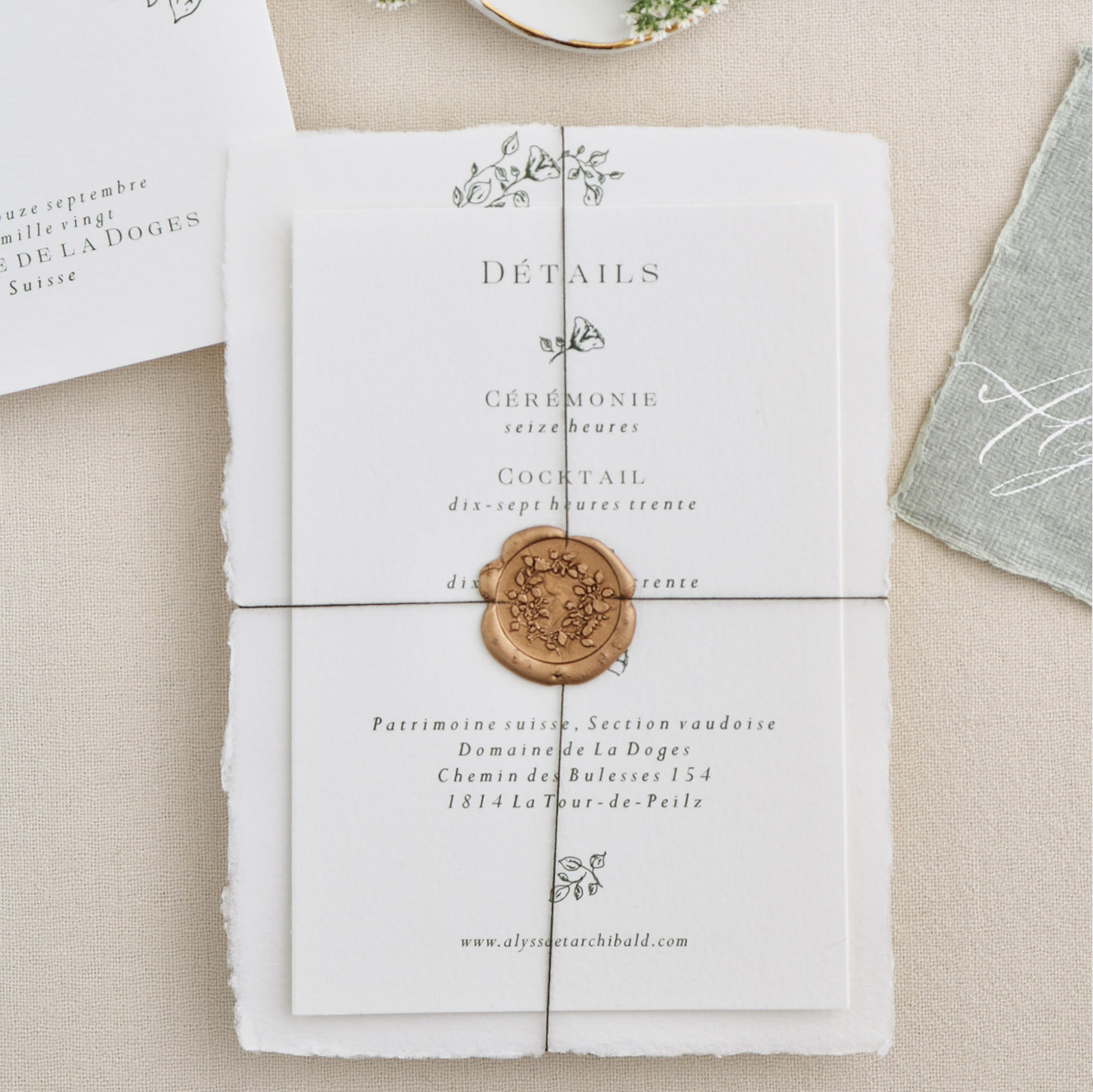 TWINE
We will always adapt and look for the best option for your twine, color and texture wise.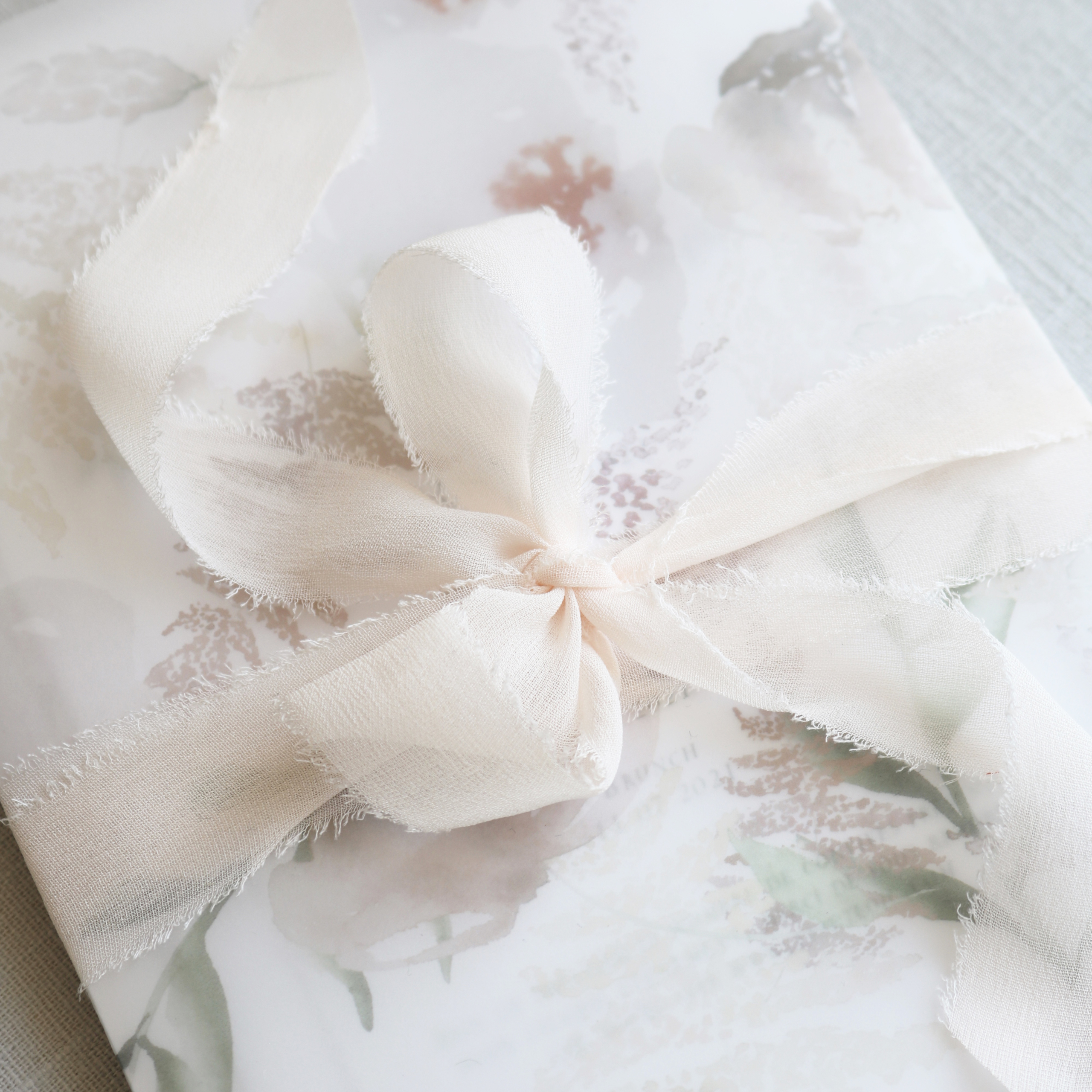 RIBBON
Here is a silk ribbon, but we can offer many type of ribbon such as coton, velvet, muslin, etc…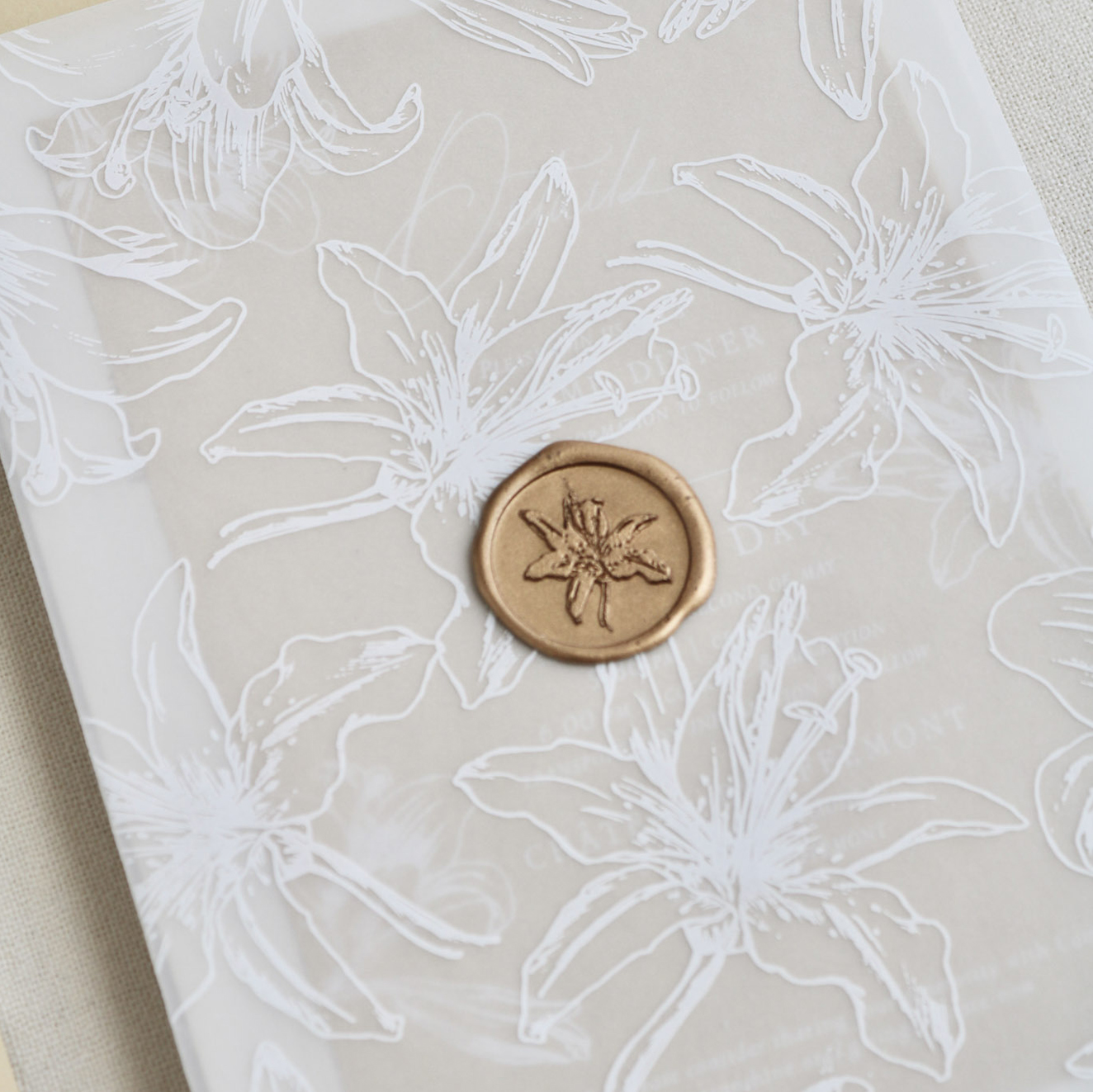 WAX SEAL
This one became an unavoidable touch to many suites, and it will forever be a favorite of ours. Customize it with your own initials, handwritten for you, or with any other design we will create for you.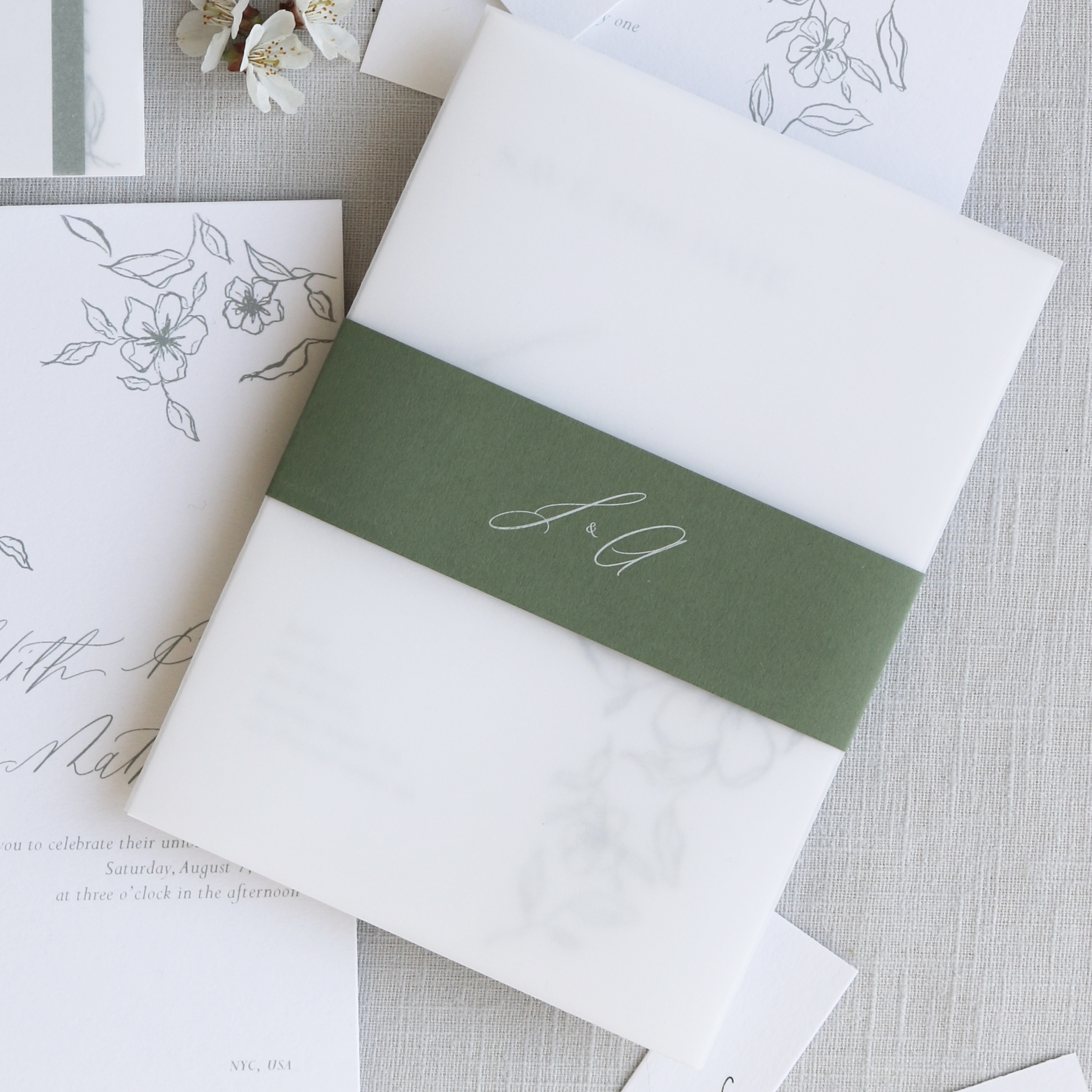 BELLY BAND
Printed or not, color matching your invitation suites. Giving them a modern touch.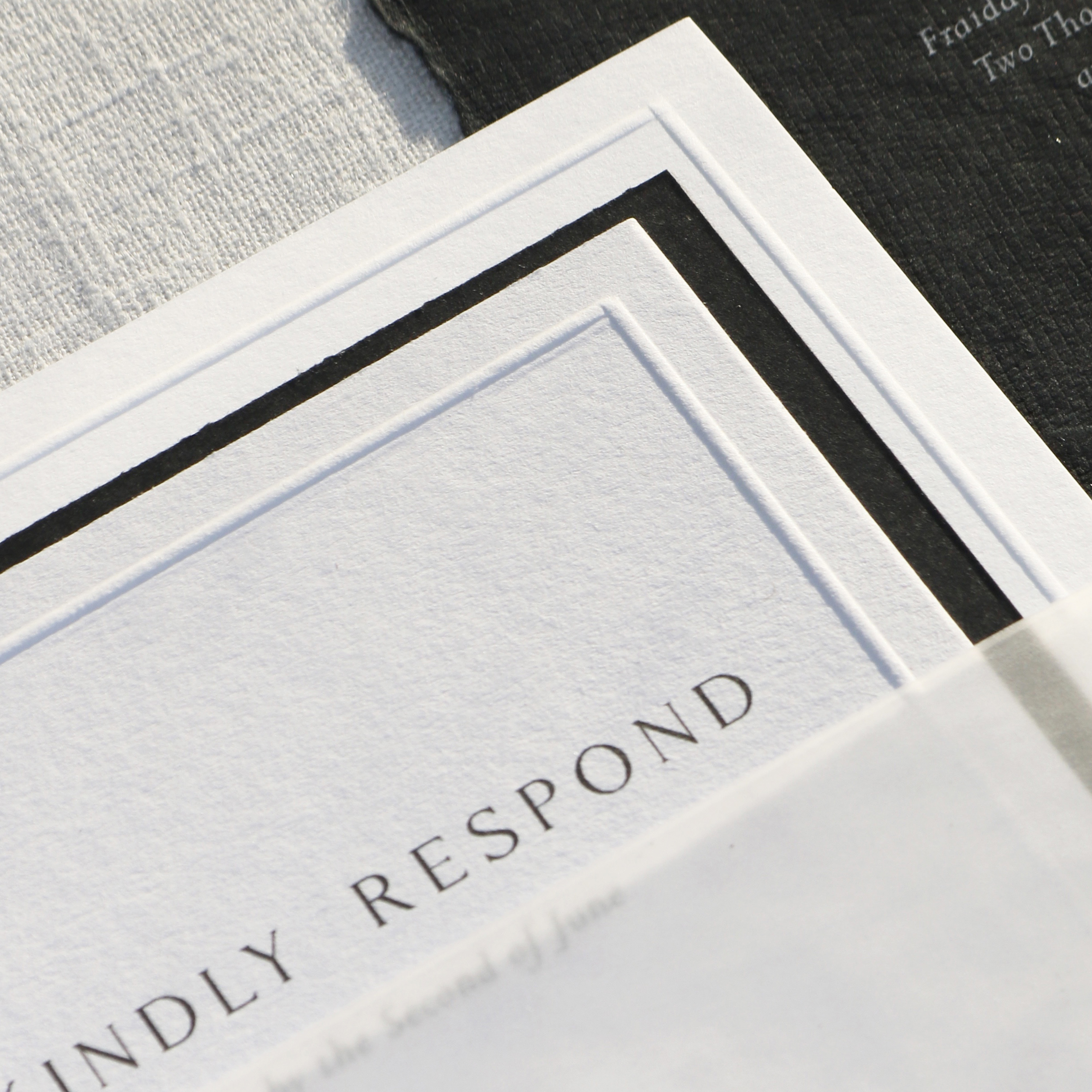 EMBOSSED FRAME

Giving a modern and sophisticated look to your invitation.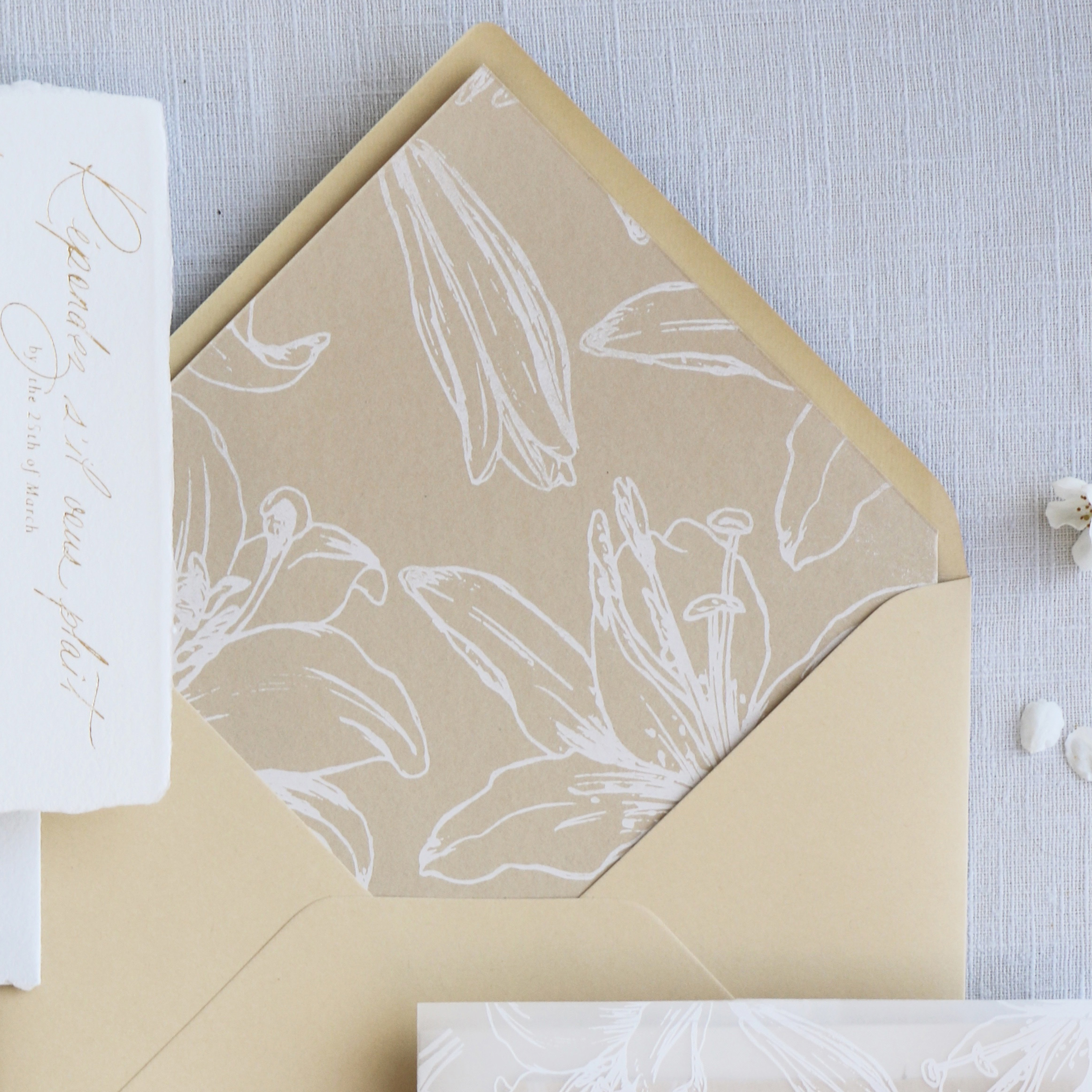 ENVELOPE LINER

We offer a few liners as part of our collections. But custom liners are possible, rather you picked a collection or a custom creation for your invitations.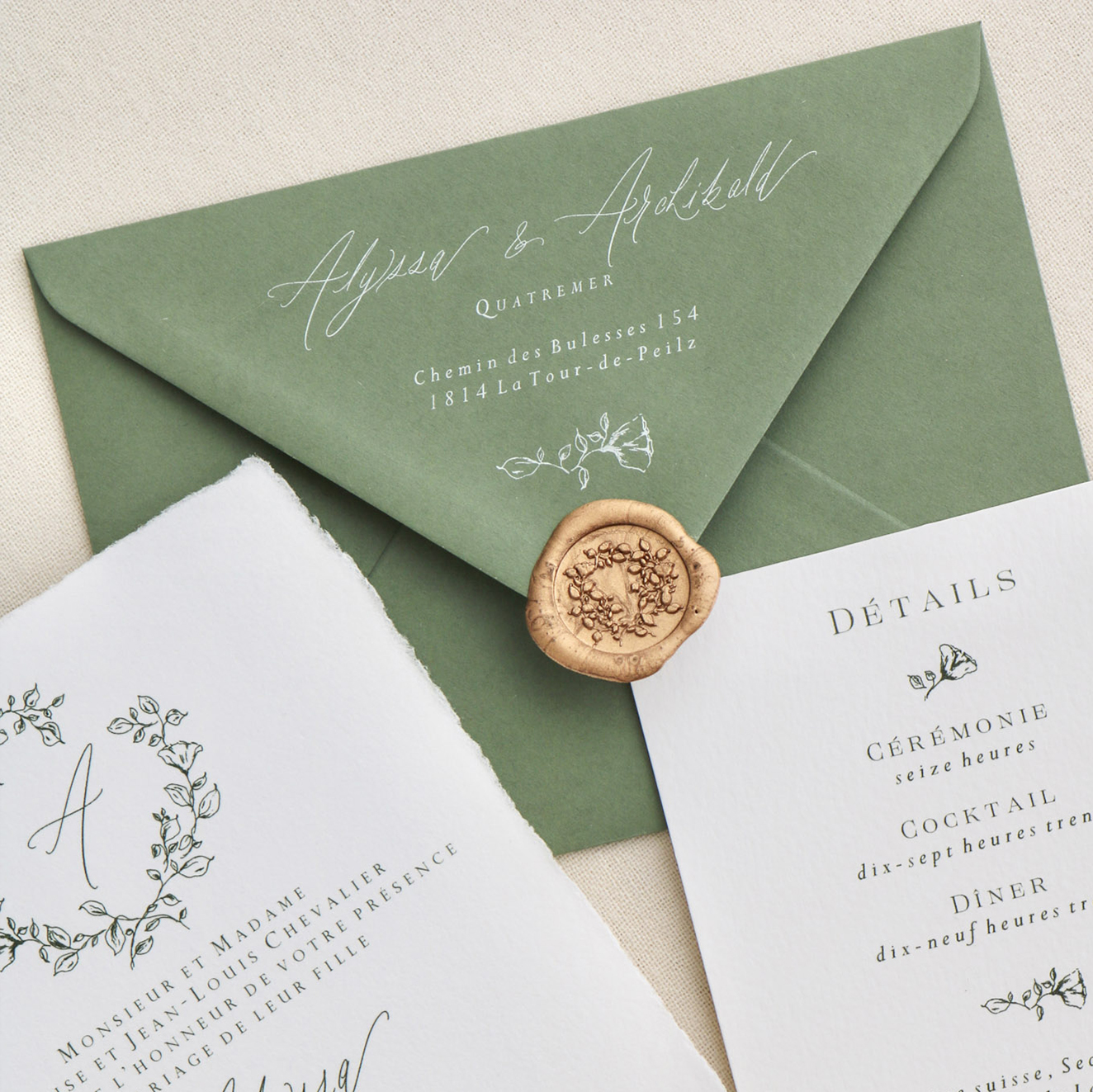 PRINTED ENVELOPE

Front or back of your envelopes can be printed with addresses, while adding a modern touch to your design.